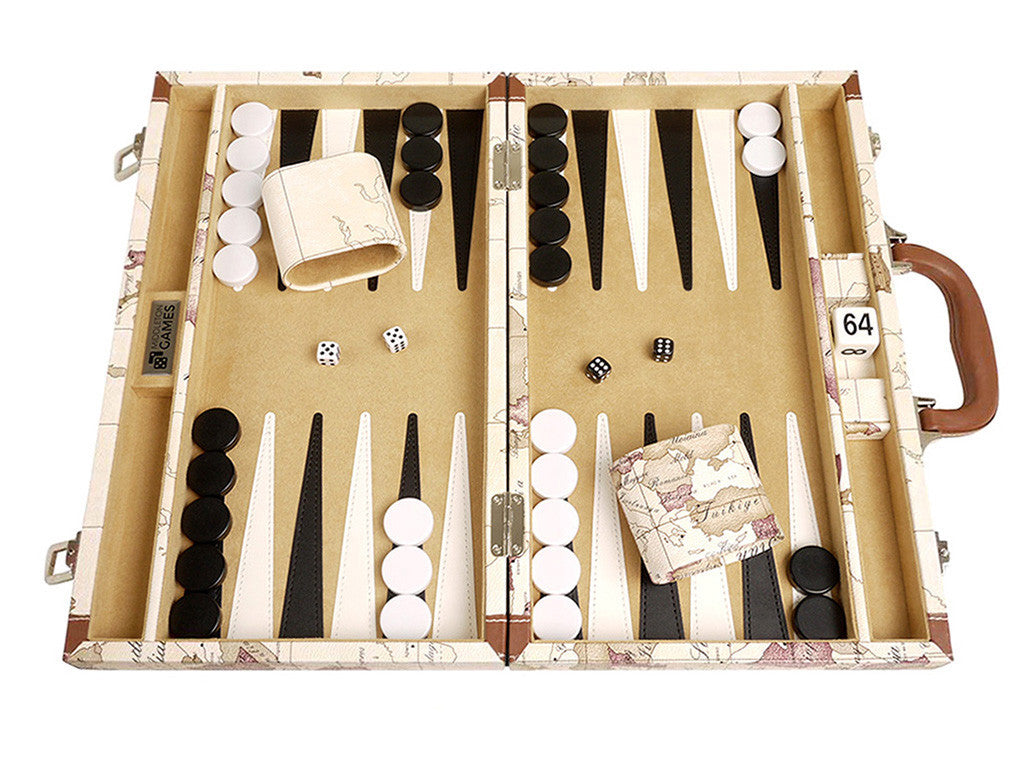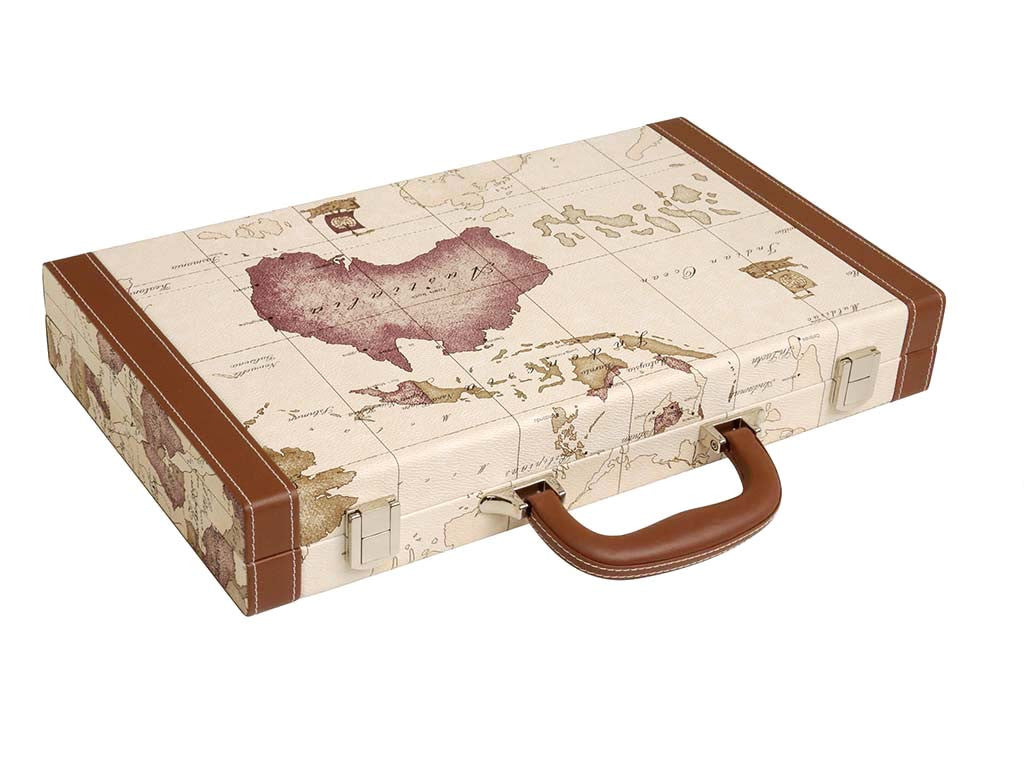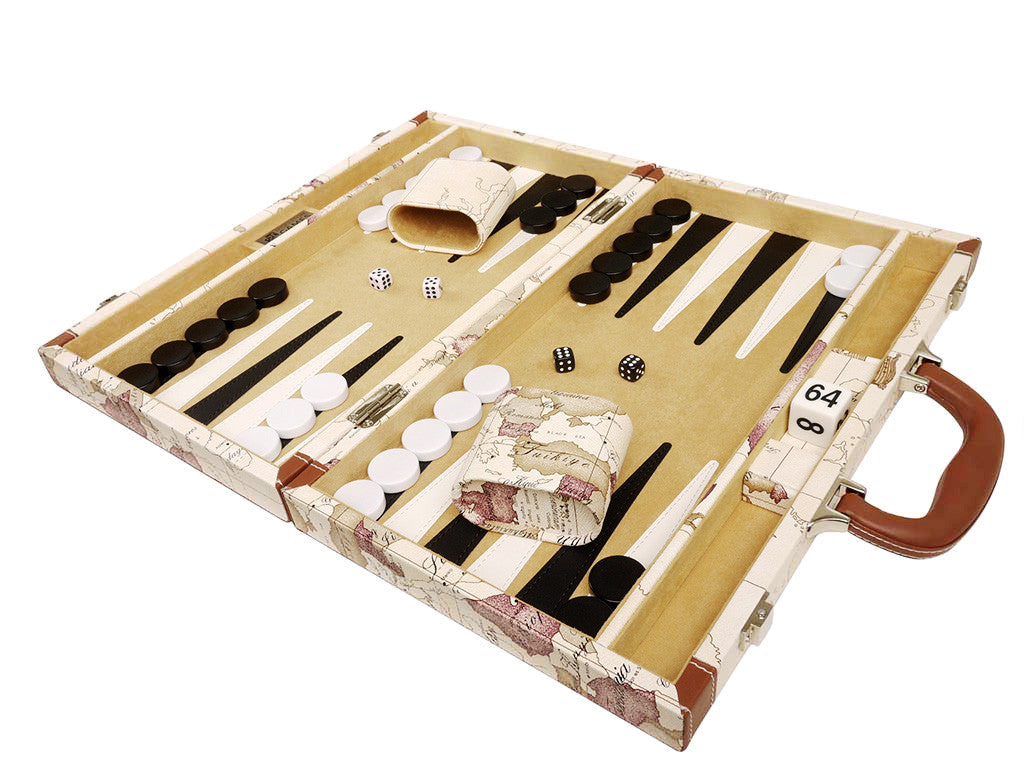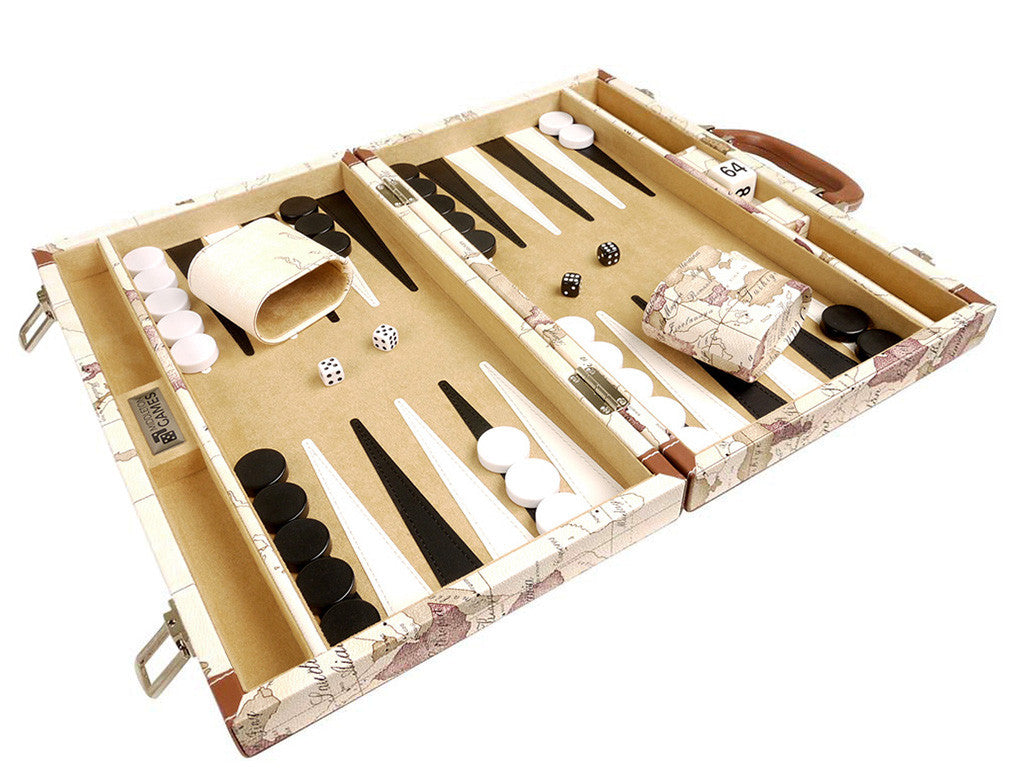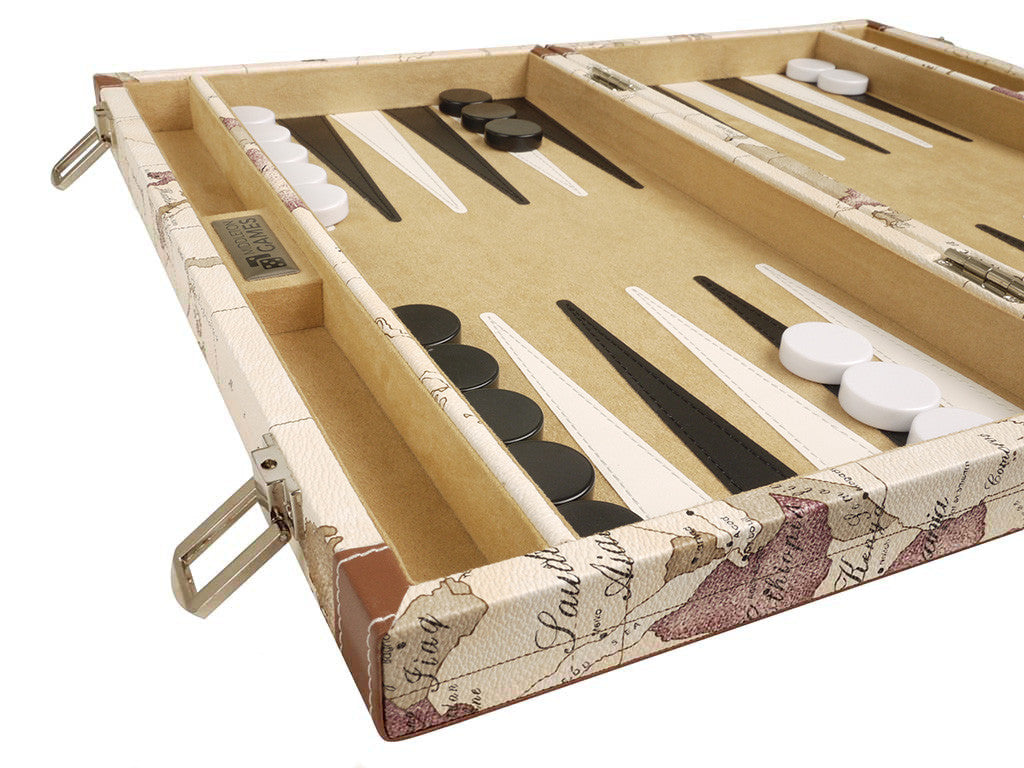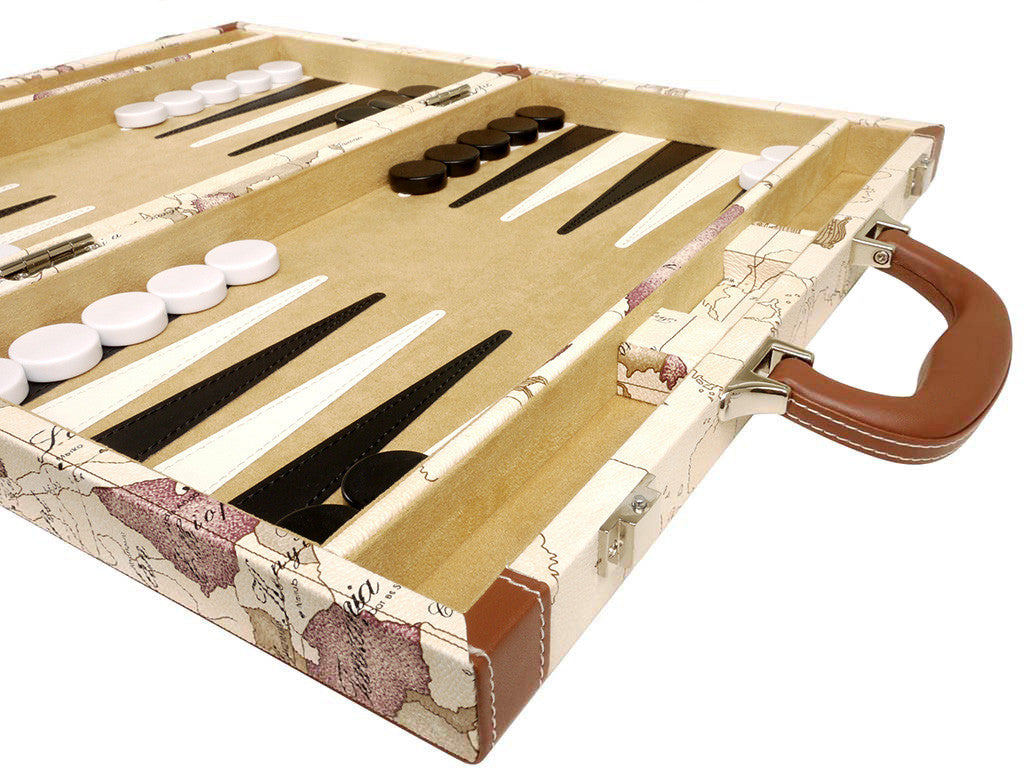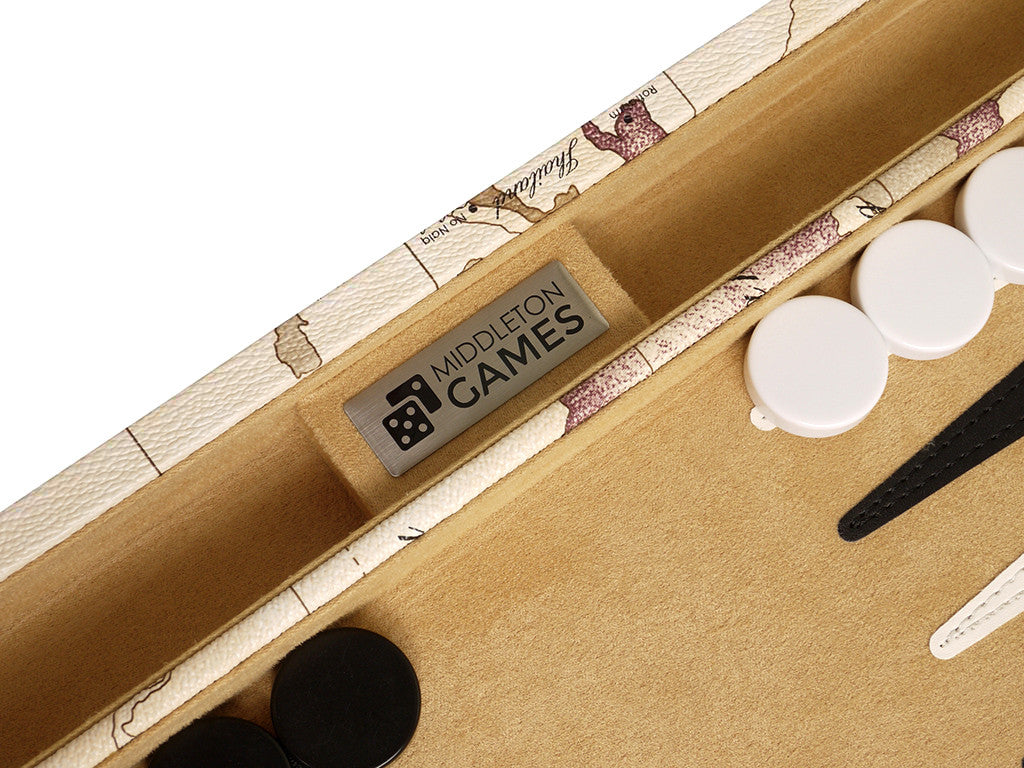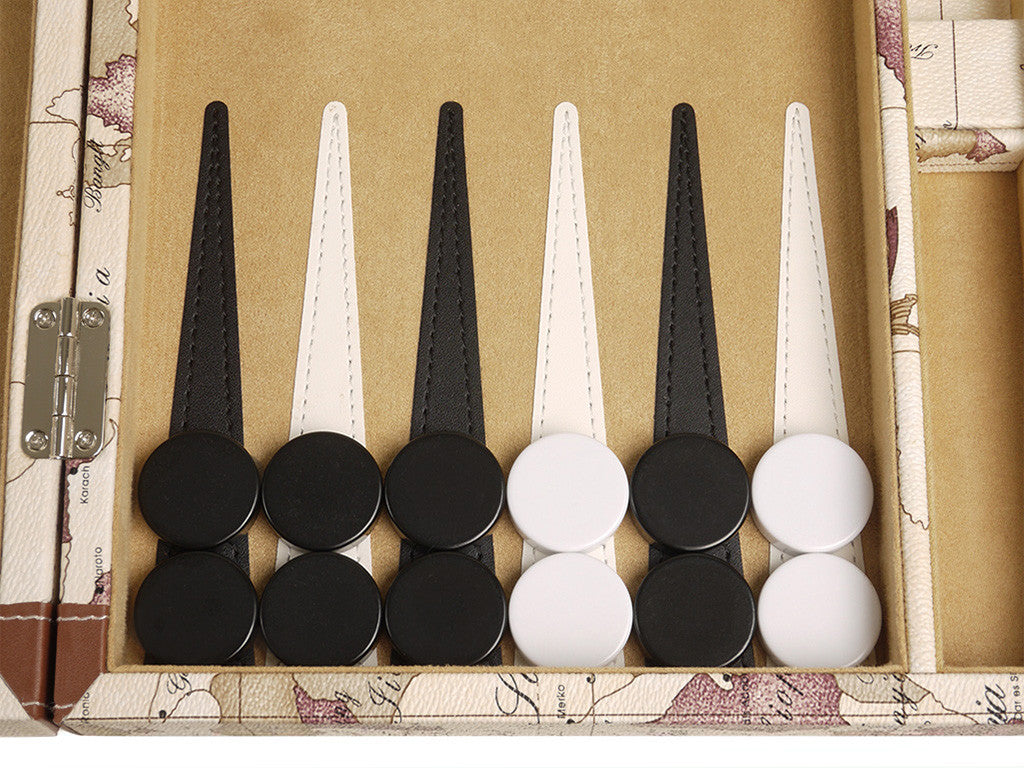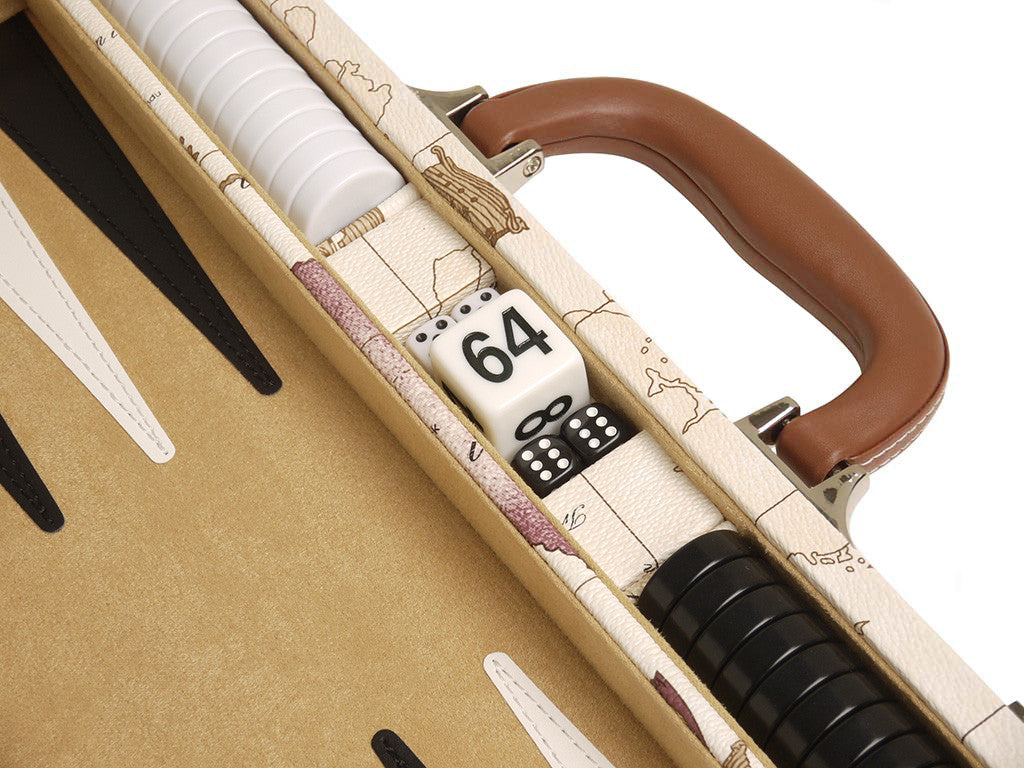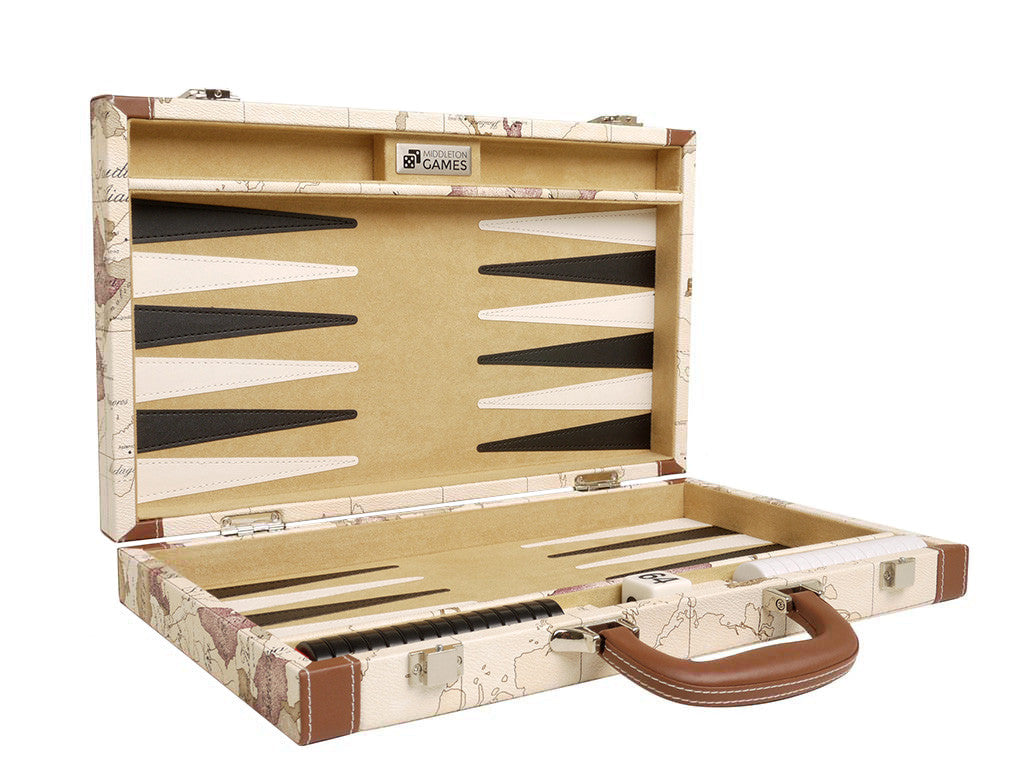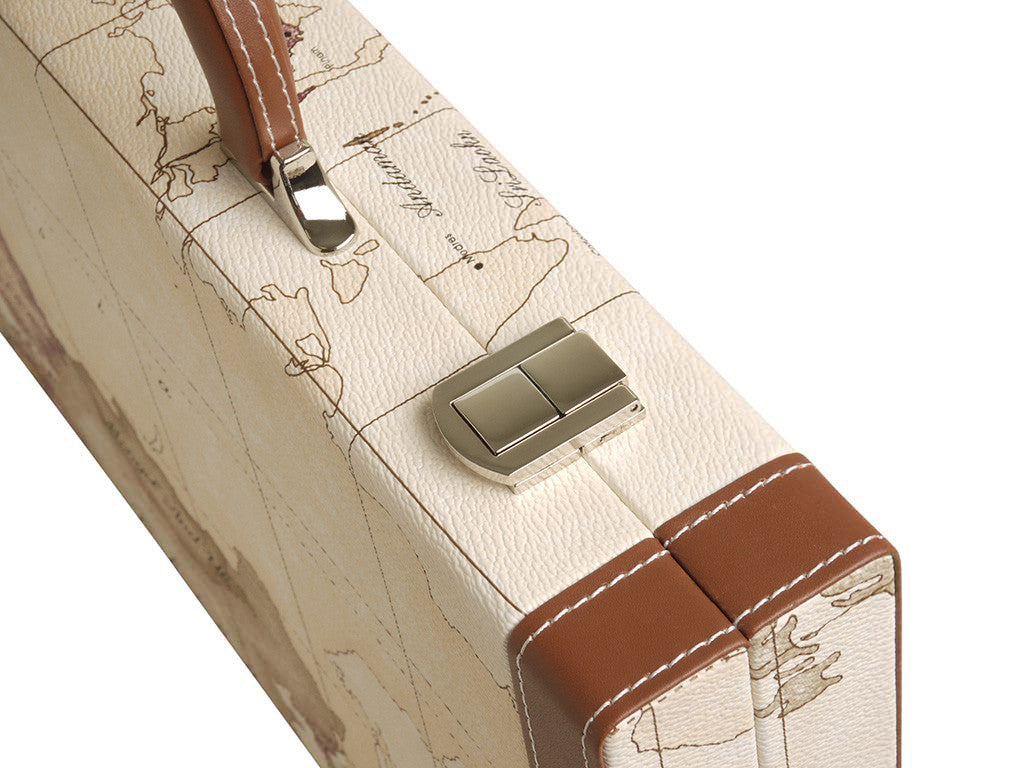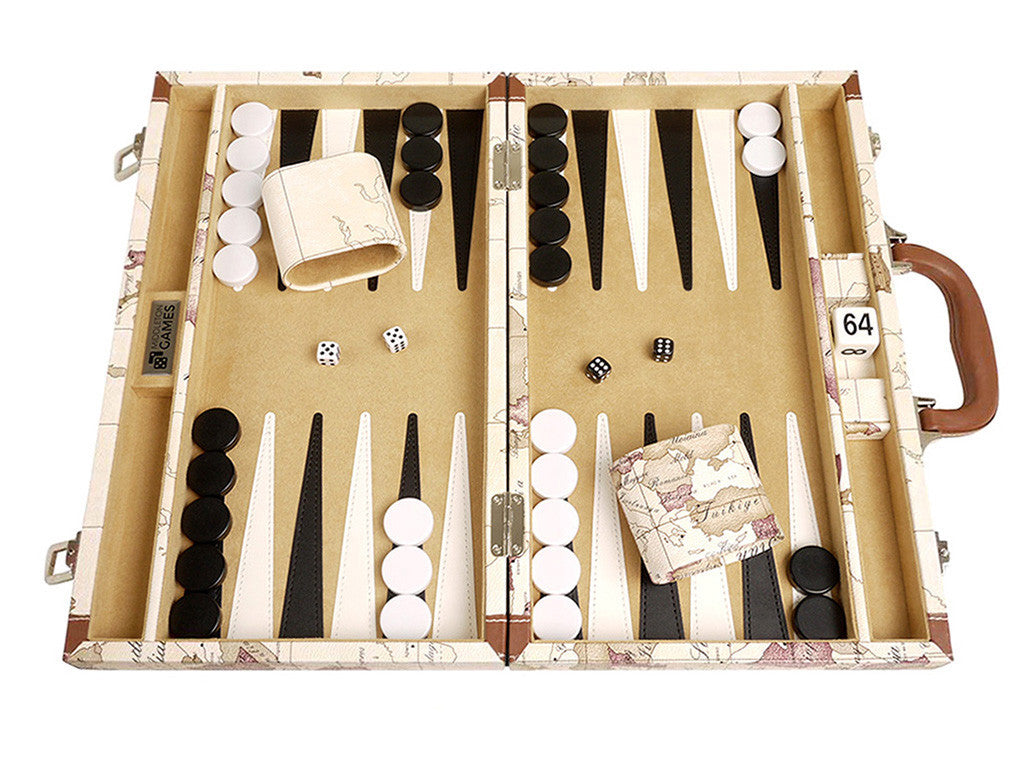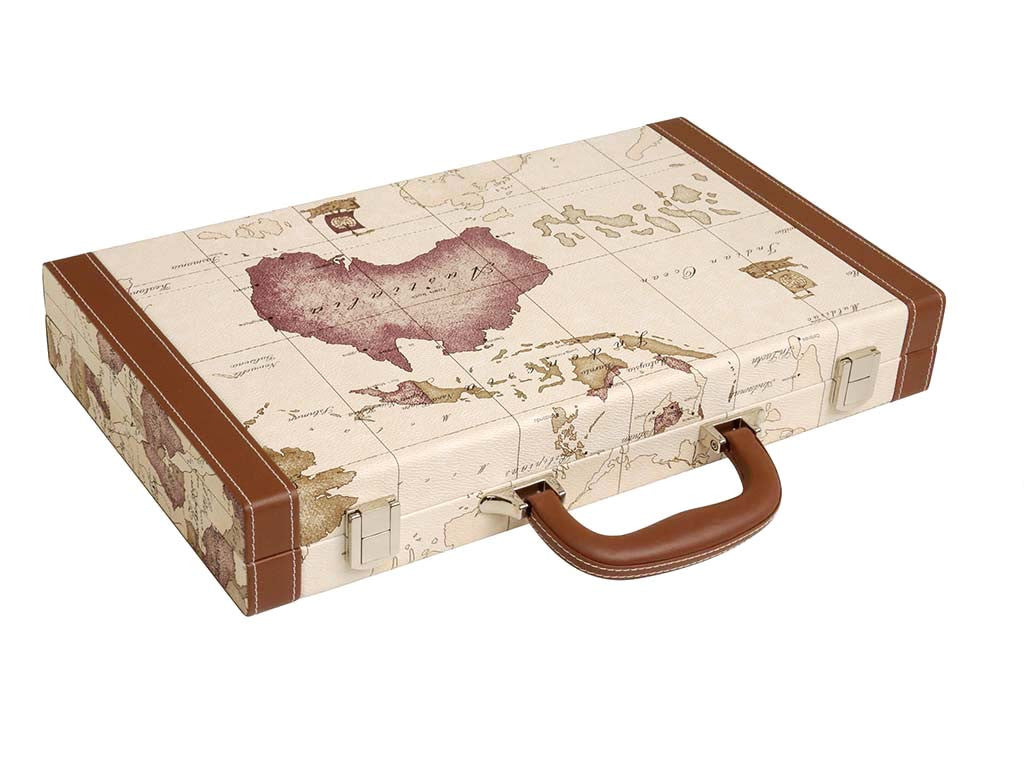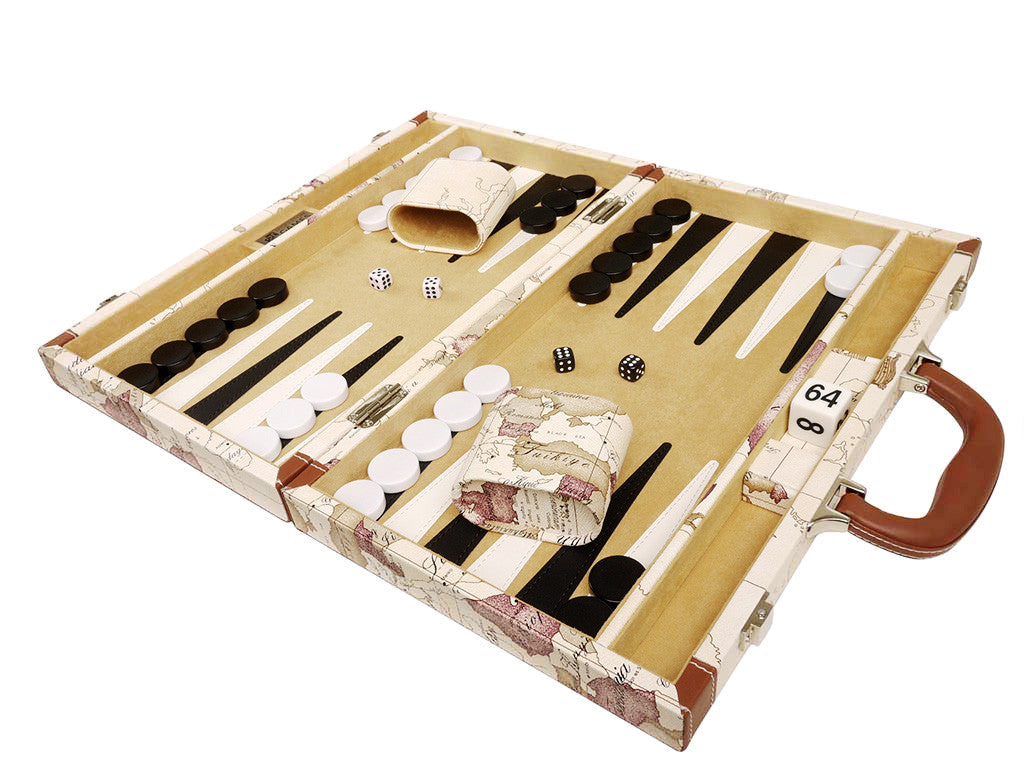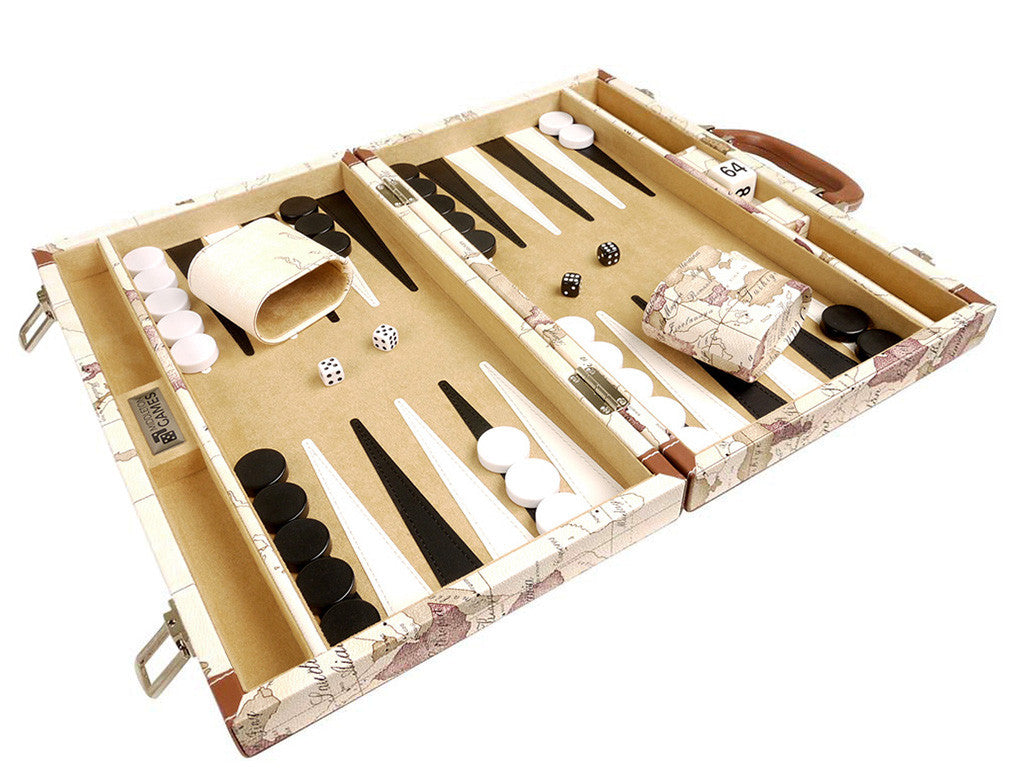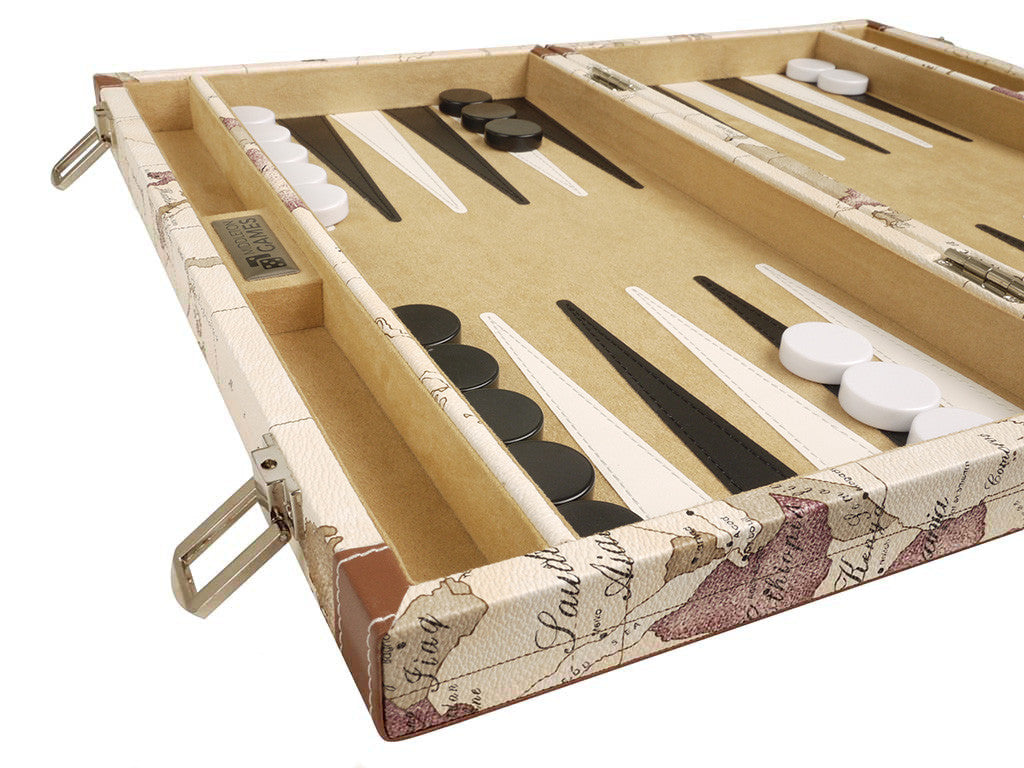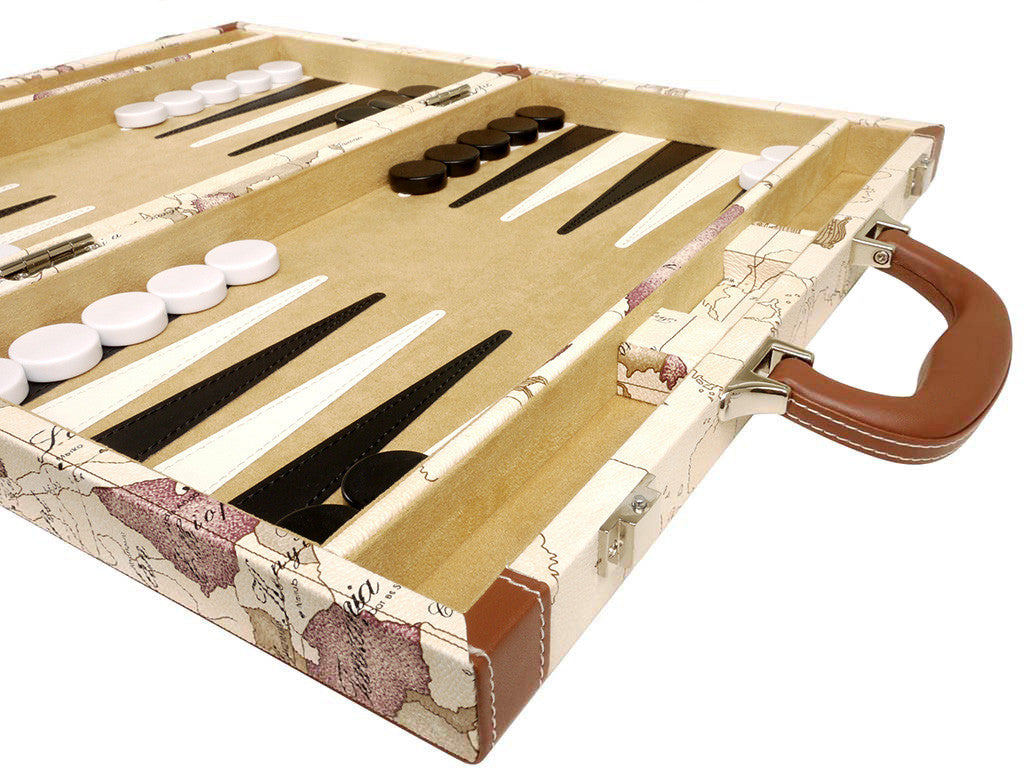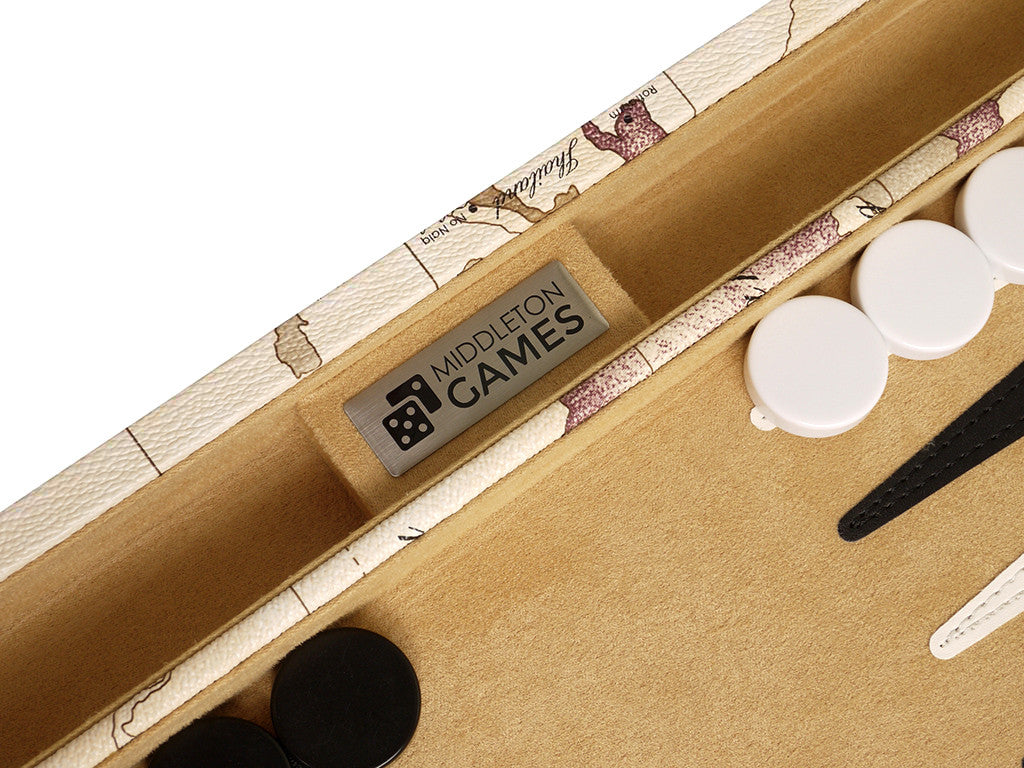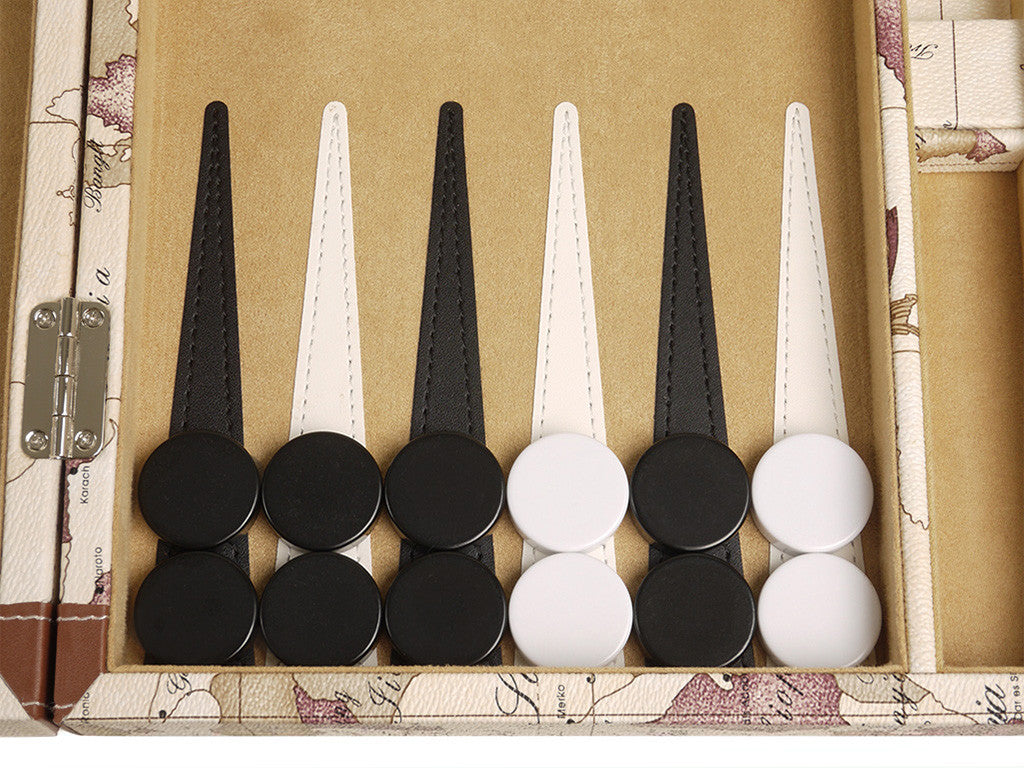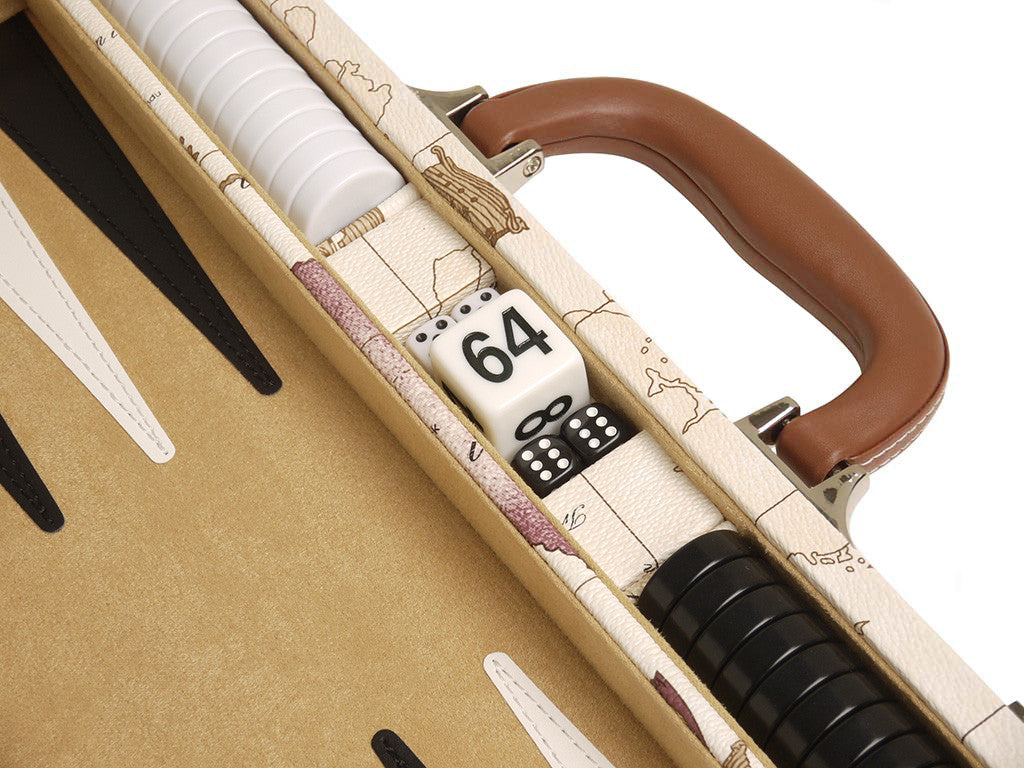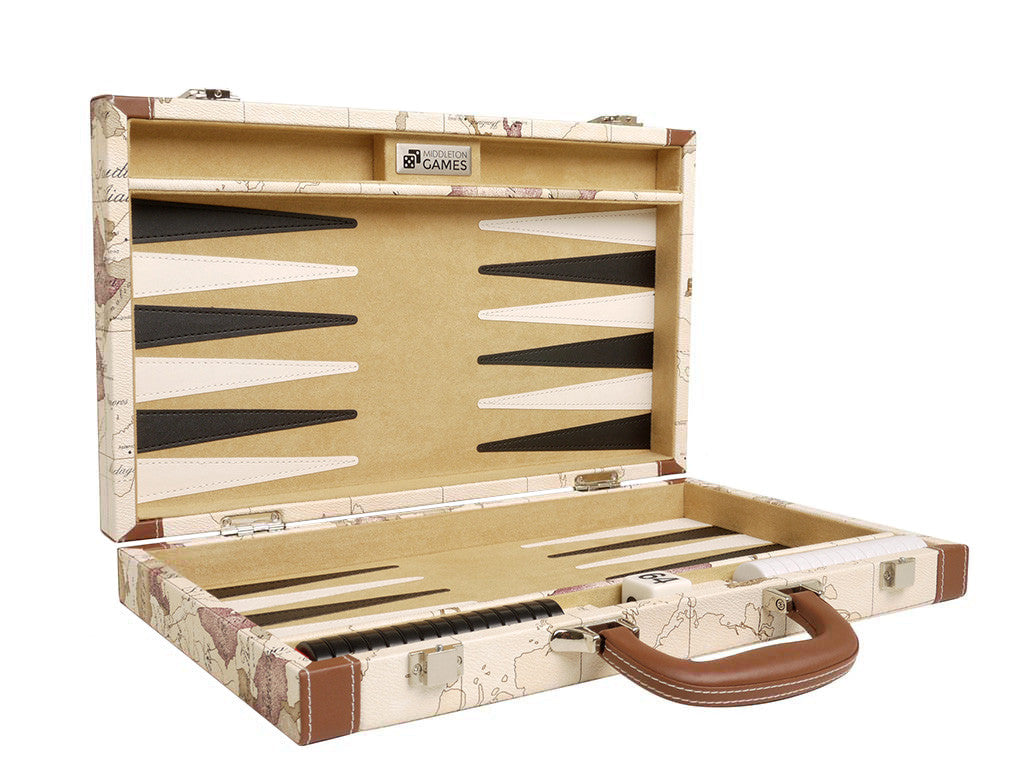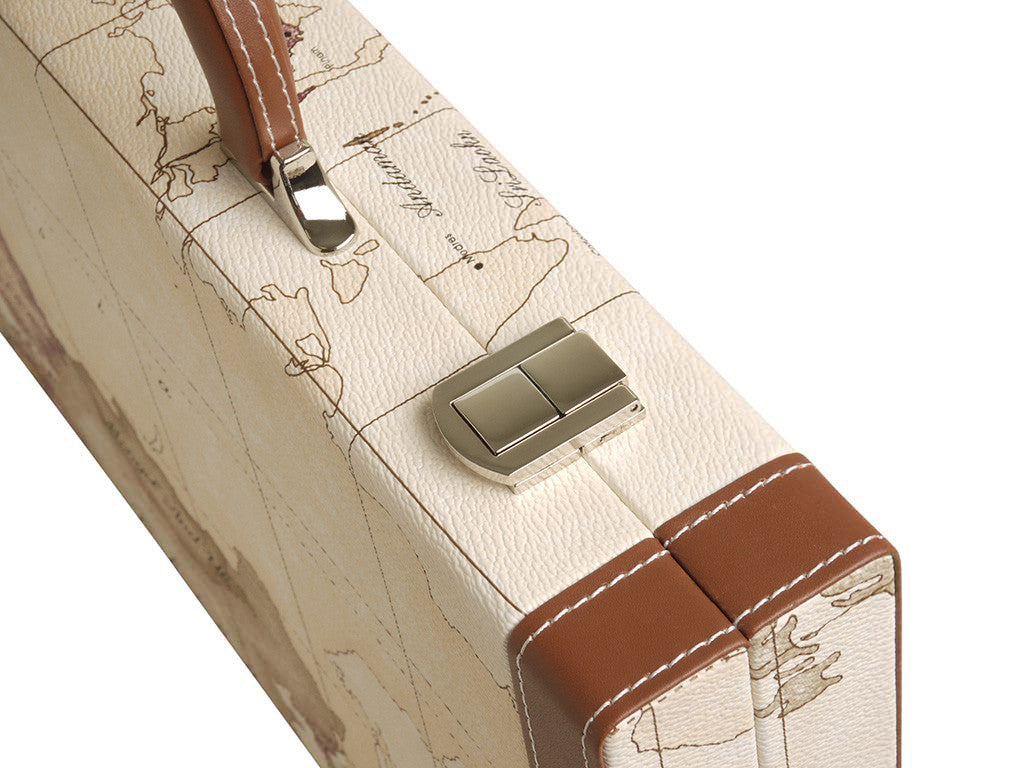 On Sale
Set da backgammon Mappa elegante da 38 cm - Tavola bianca
Elegante e prestigioso design in stile mappa antica. Superficie di gioco in finto tessuto scamosciato.
Misure 38 x 23 x 6,5 cm da chiuso, 38 x 46 x 3,25 cm da aperto.
Dotazione con accessori di qualità: pedine da 27 x 8 mm, dado del raddoppio da 25 mm, dadi da 13 mm e bicchierini per i dadi abbinati.
Struttura ripiegabile. Semplice da trasportare e da conservare.
Divertente da giocare. Adatto per interni ed esterni.
Stai cercando qualcosa di unico e fuori dall'ordinario? Scopri questo magnifico set da backgammon di Middleton Games.
Middleton Games vanta una lunga tradizione nella produzione di giochi da tavolo di qualità e ne sono testimonianza gli splendidi materiali e la pregevole fattura di questo prodotto.
La ruvida e resistente maniglia in stile valigetta è un notevole tocco di classe rispetto ad altri set da backgammon. La superficie di gioco è realizzata con un eccezionale finto tessuto scamosciato (potrai passarci sopra più e più volte!) e le pedine scorrono facilmente da una punta all'altra.
A proposito di pedine, siamo certi che apprezzerai le pedine da 27 x 8 mm di ampie dimensioni in dotazione con questa tavola da backgammon. Oltre a essere pesanti, apprezzerai anche il modo in cui si fondono perfettamente con la superficie di gioco, come quando avrai 6 pedine fianco a fianco, con pochissimo spazio fra loro.
I vani laterali consentono di conservare il gioco in maniera semplice, e rendono l'apertura e la chiusura della valigetta molto comode. Materiali e fattura di qualità per un'elegantissima tavola da backgammon.
Dimensioni Set Backgammon:

Lunghezza chiusa: 15 "; Larghezza: 9"; Altezza: 2 1/2 "
Lunghezza aperta: 15 "; Larghezza: 18"; Altezza: 1 1/4 "
Materiali di backgammon:
Materiale della cassa: cuoio artificiale
Caso Colore: Mappa Design - Bianco
Materiale del campo: Suede alta di Faux
Colore del campo: A

bbronzarsi


Punti 1 Colore: Bianco
Punti 2 Colore: Nero
Clasp Style: Latch Nichelato
Dimensioni in pietra del backgammon:
Diametro: 1 "(27 mm)
Spessore: 1/4 "(8 mm)
Materiale: Uria Stone
Pietre 1 Colore: Nero
Pietre 2 Colore: Bianco
Dimensioni del dado / cubo backgammon:
Dimensione dei dadi: 1/2 "
Cubo: 1 "
Dadi Set 1 Colore: Nero
Dado Set 2 Colore: Bianco Colore cubo: Bianco
Dimensioni della tazza di Backgammon:
Altezza della tazza: 3 "; Larghezza: 1 1/2"; Lunghezza: 2 3/4 "
Coppa Esterno: Cuoio
Coppa Interni: Alta Faux Suede
Coppa 1 Esterno: Mappa Design - Bianco
Coppa 1 Innamorato: Suede alta Faux
Coppa 2 Esterno: Mappa Design - Bianco
Coppa 2 Innamorato: Suede alta Faux
About Middleton Games

Middleton Games' Backgammon Sets Featuring Map Designs
Explore Middleton Games' exclusive collection of Map Backgammon Sets, available at American-Wholesaler. Renowned for their budget-friendly yet stylish and high-quality gaming sets, Middleton Games offers a captivating selection that blends quality with affordability. Whether you're a novice or seeking a memorable gift, these Map Backgammon Sets are designed to charm and captivate.
The antique map design on these sets transports you to an old-world era, adding an extra layer of intrigue to your gaming experience. The classic brown and white colors enhance the vintage aesthetic, evoking timeless sophistication.
Available in 15-inch and 18-inch sizes, catering to various preferences, these fully equipped sets ensure immersive gaming. The folding attaché style ensures easy carrying and storage, allowing you to indulge in backgammon wherever you wish.
These sets are meticulously crafted using premium leatherette material, providing a truly luxurious texture. The addition of nickel-plated latches adds a layer of durability and security during transport. Notably, the rugged luggage-style handle stands out as a feature that enhances both aesthetics and durability, ensuring convenient transportation. Furthermore, the plush faux-suede playing surface guarantees a seamless experience, allowing checkers to effortlessly glide with each move.
Crafted from Uria Stone material, the checkers boast exceptional durability, ensuring they remain free from breaks, scratches, or cracks. Checker size corresponds to the dimensions of the board: larger boards feature larger checkers. The 15-inch board includes 1" (27 mm) checkers, while the 18-inch board comes with 1 1/4" (32 mm) checkers.
Testimonials from customers, including the positive review by Hilde Muller, serve as evidence of their contentment with the product. Hilde Muller's review states, "Our entire family has taken pleasure in this exquisitely crafted board. Its durability and ideal size are impressive, and the map design on the case adds to its charm."
Available exclusively at American-Wholesaler, Middleton Games' Map Backgammon Sets embody historical elegance and expert craftsmanship. The blend of durability, size, and captivating design makes these sets valuable additions to any entertainment collection. Immerse yourself in enhanced gameplay with the old-world map design. Plus, enjoy the convenience of FREE shipping in Europe for these remarkable sets.