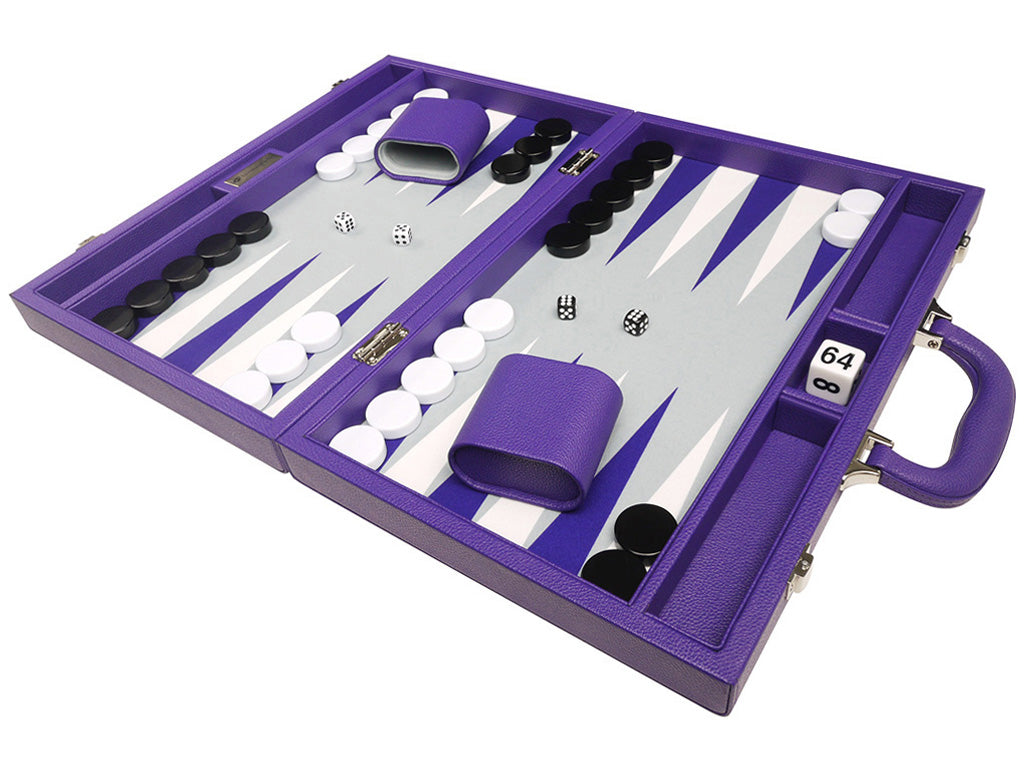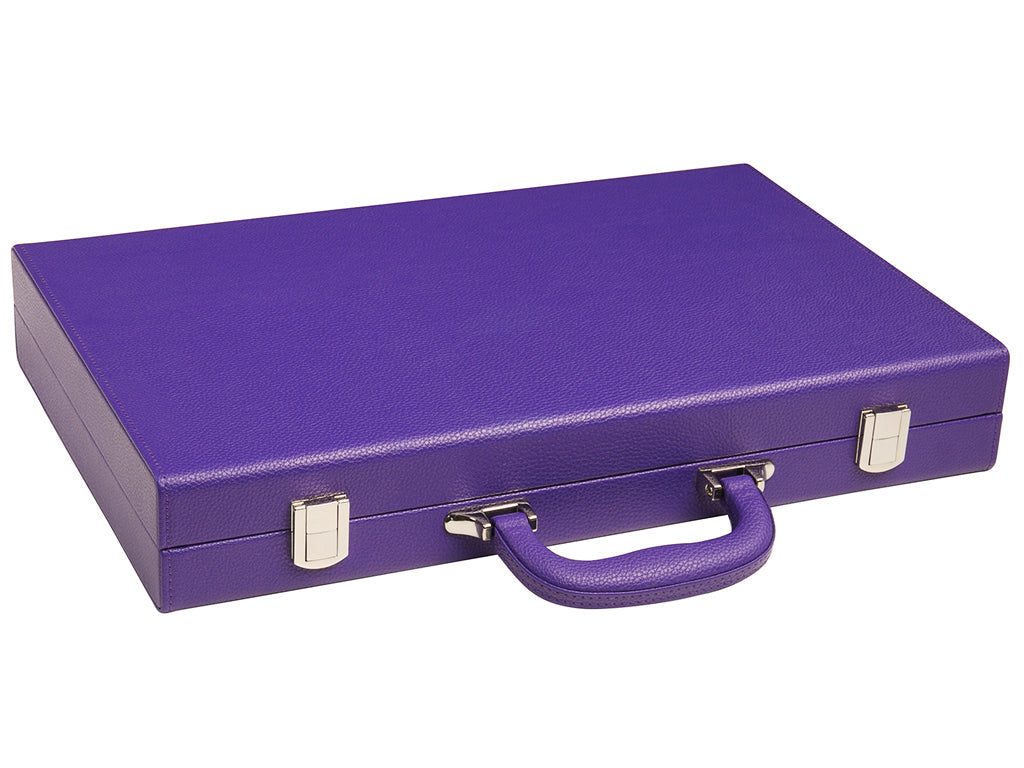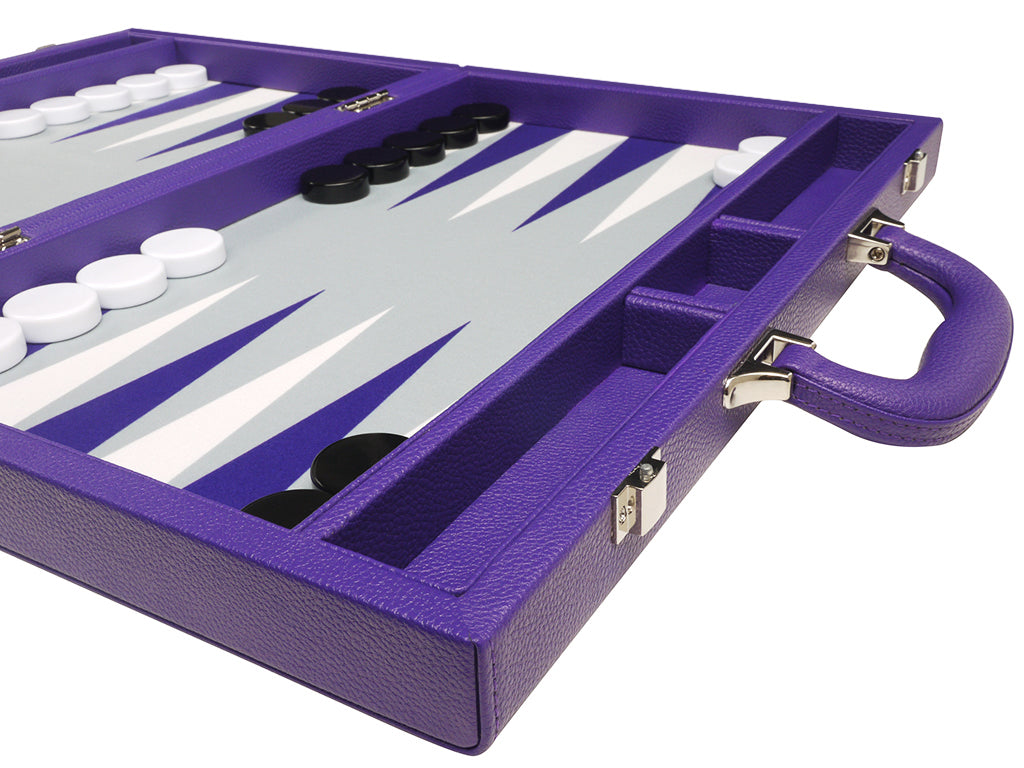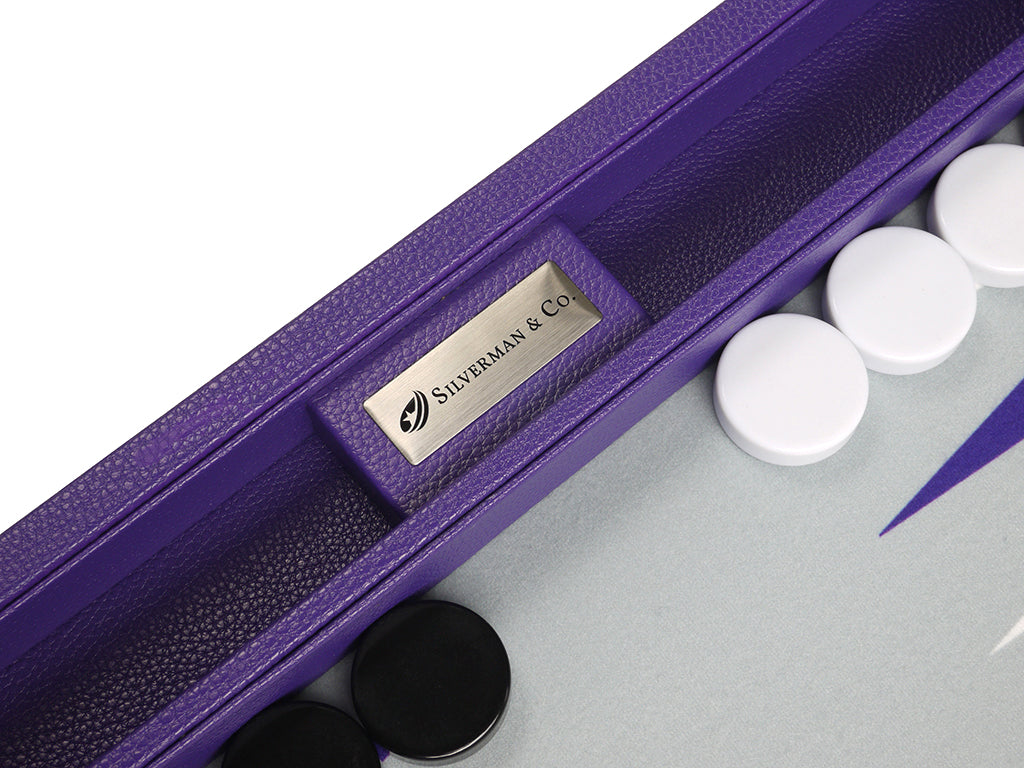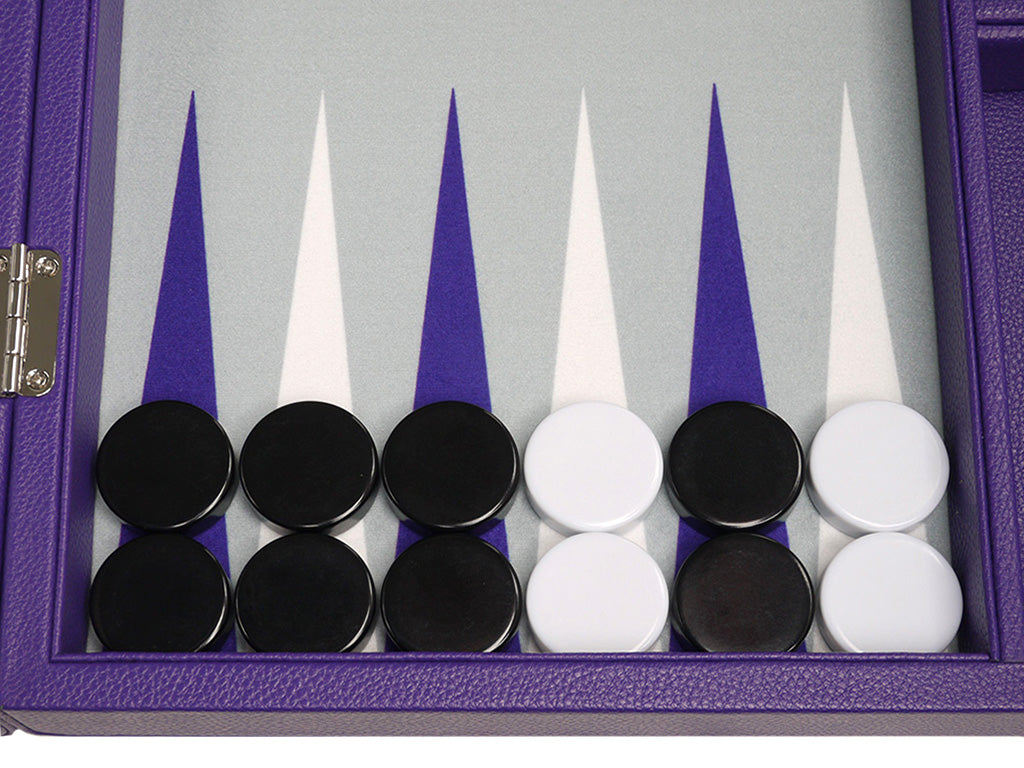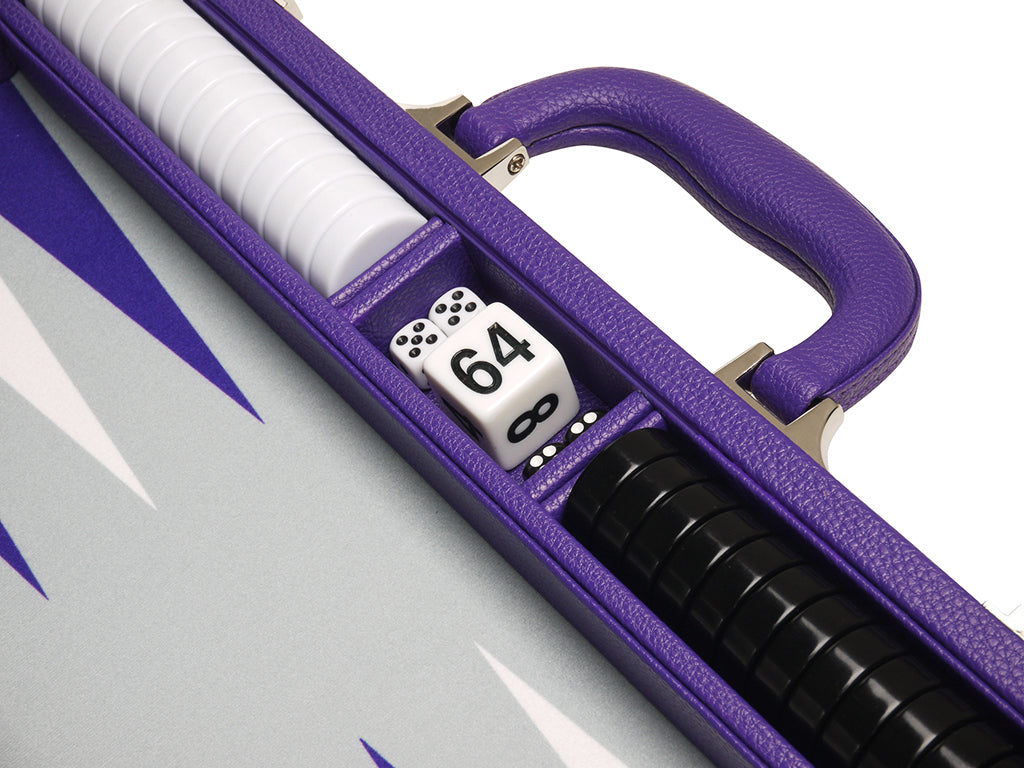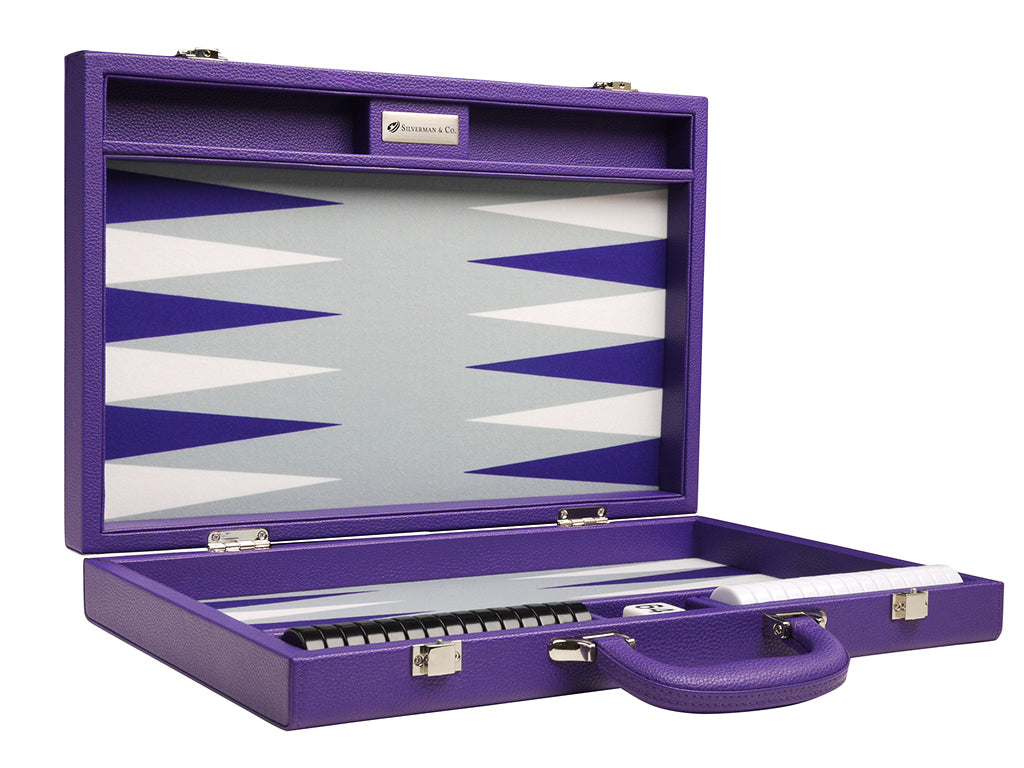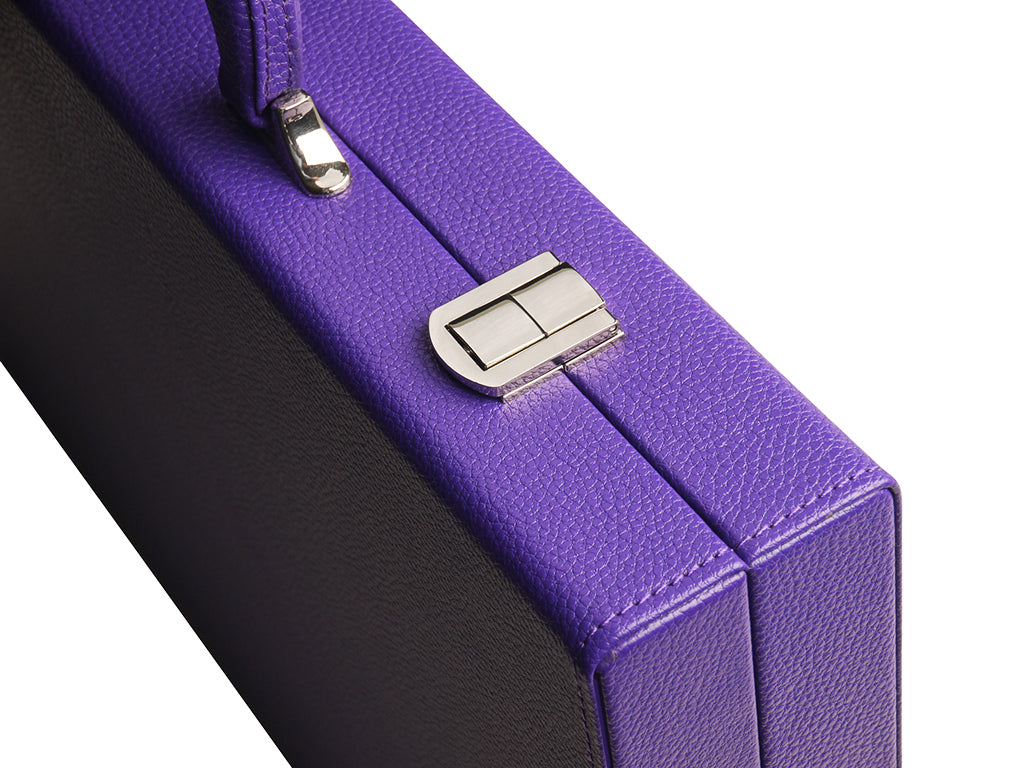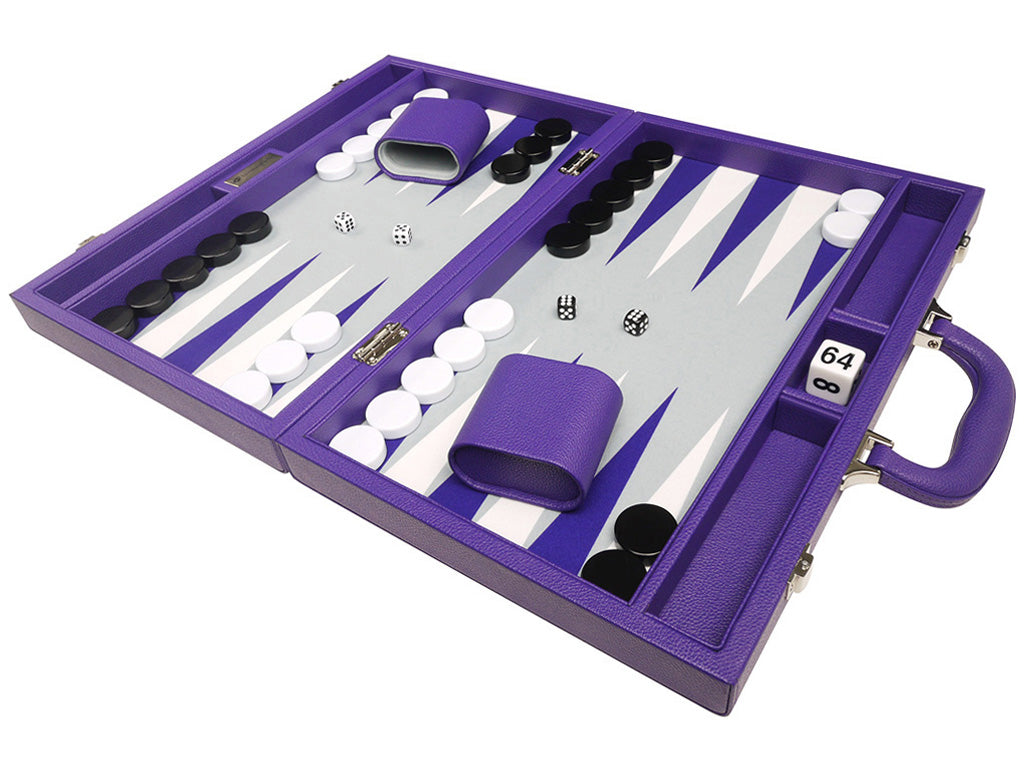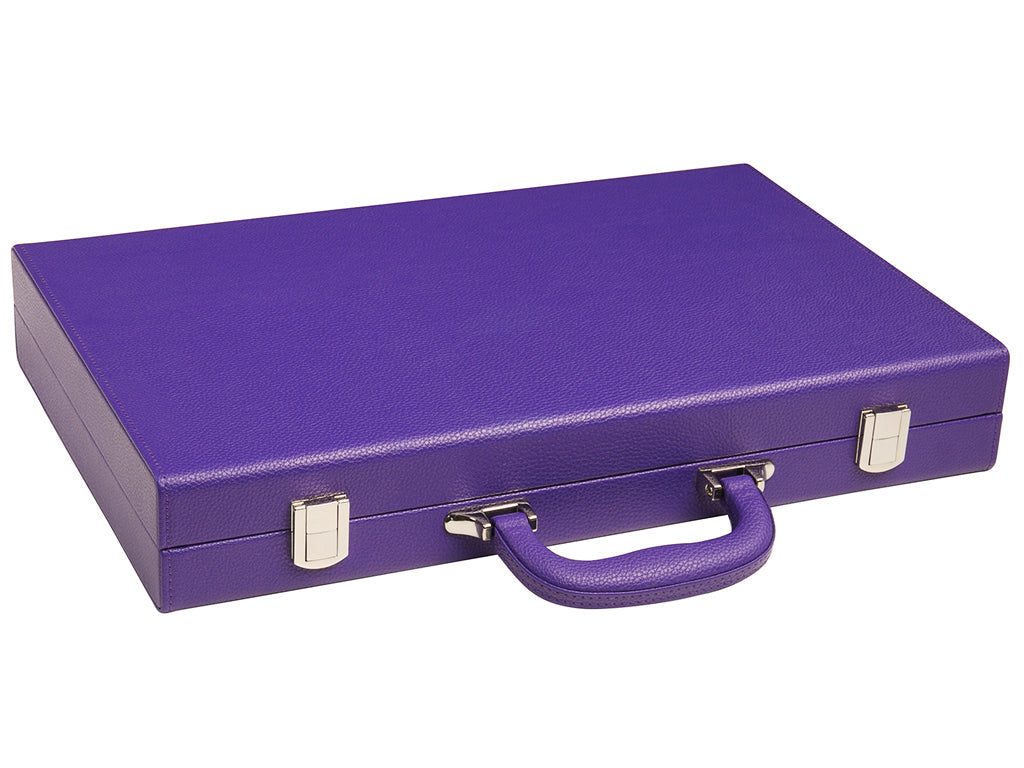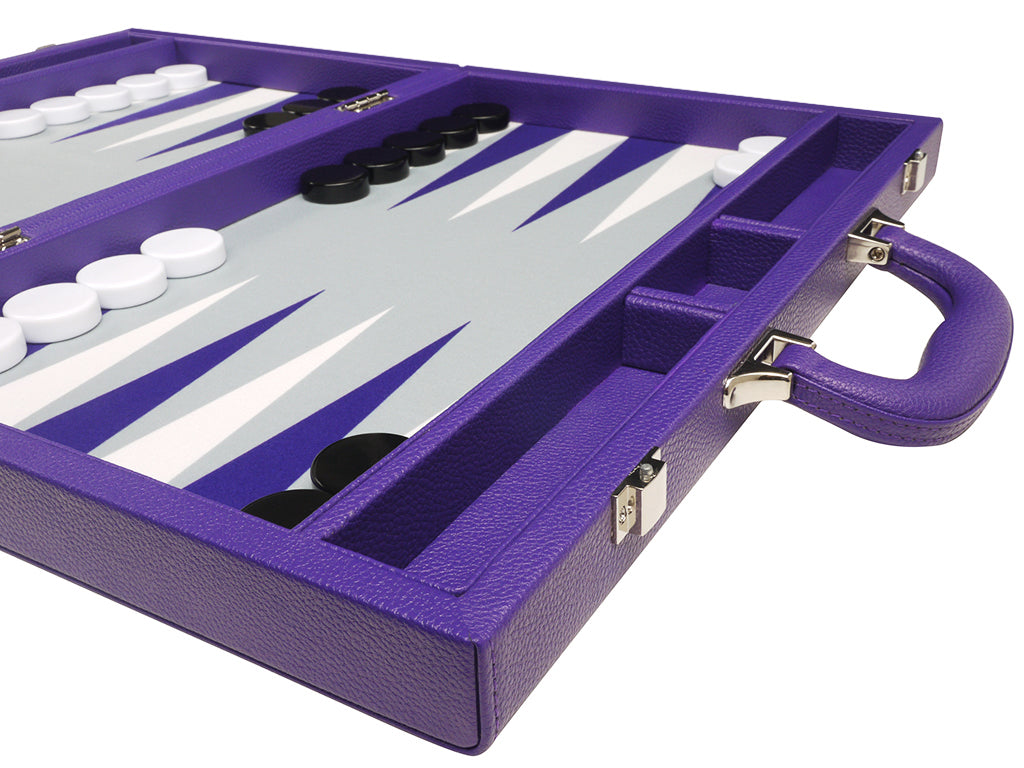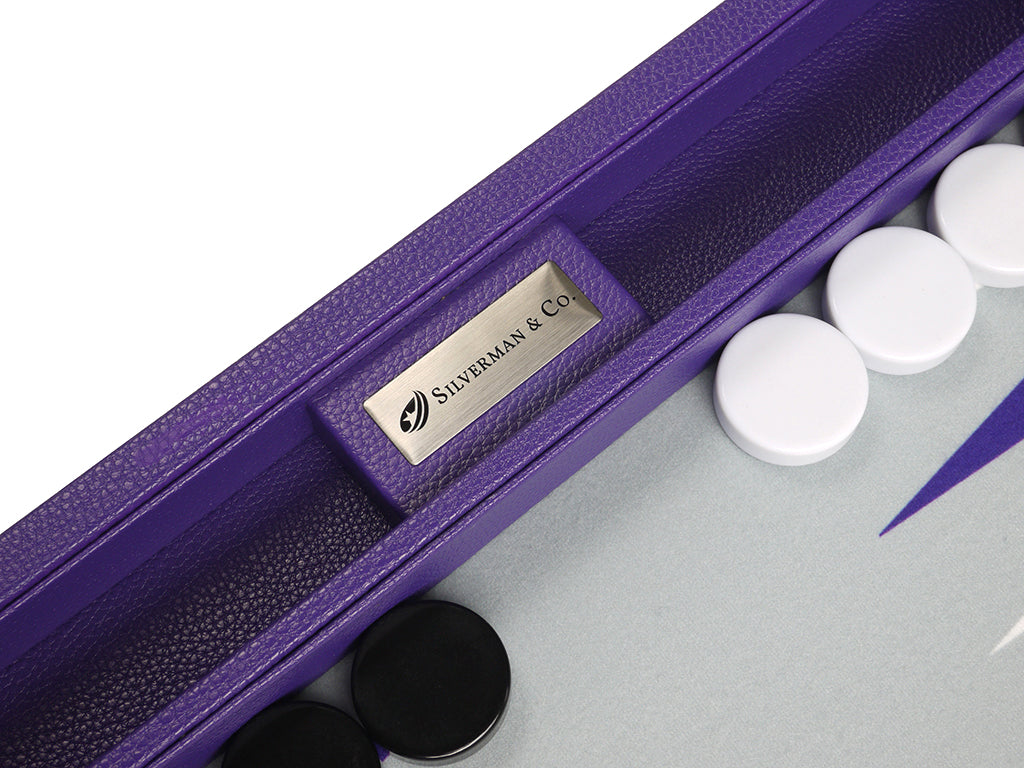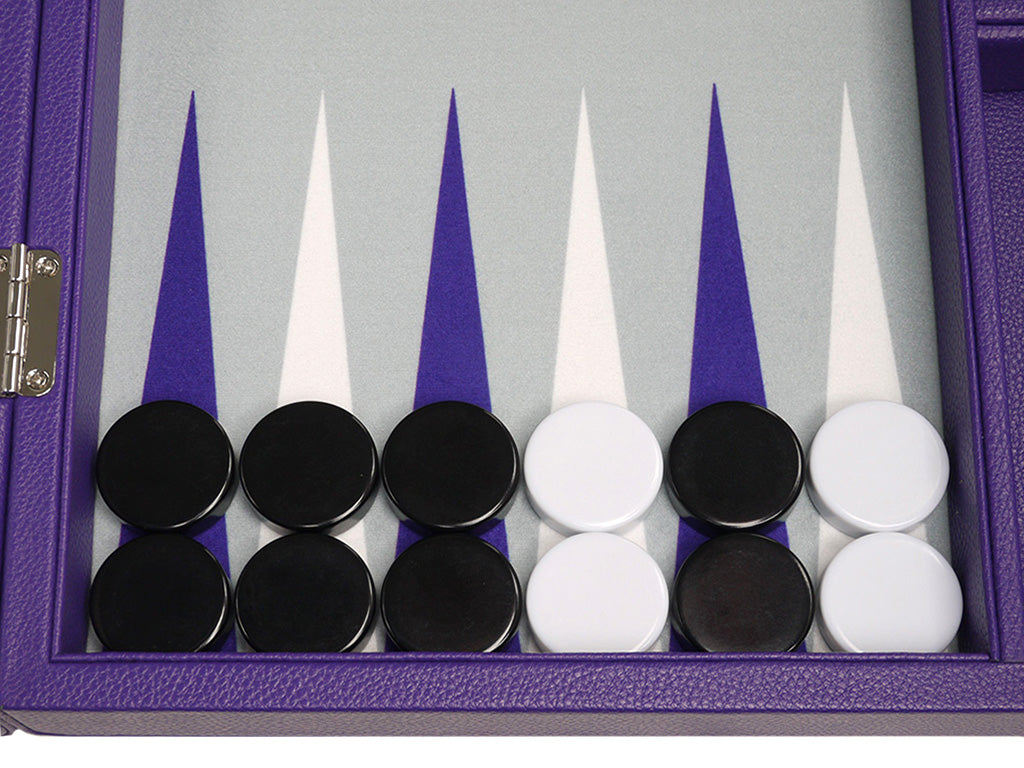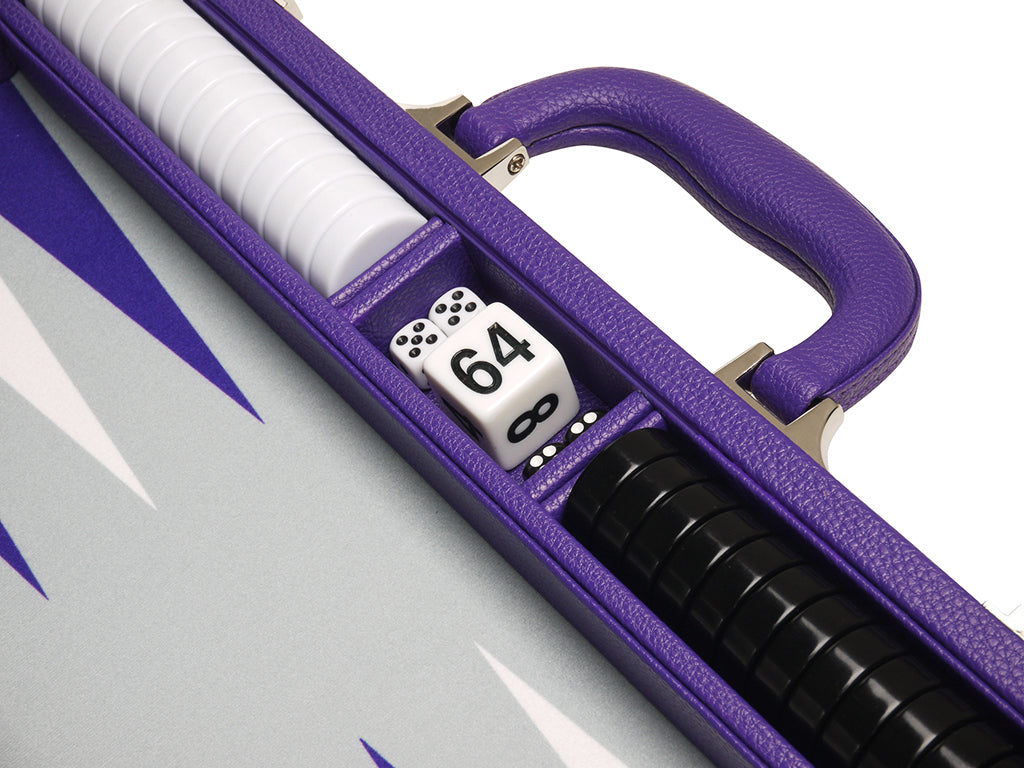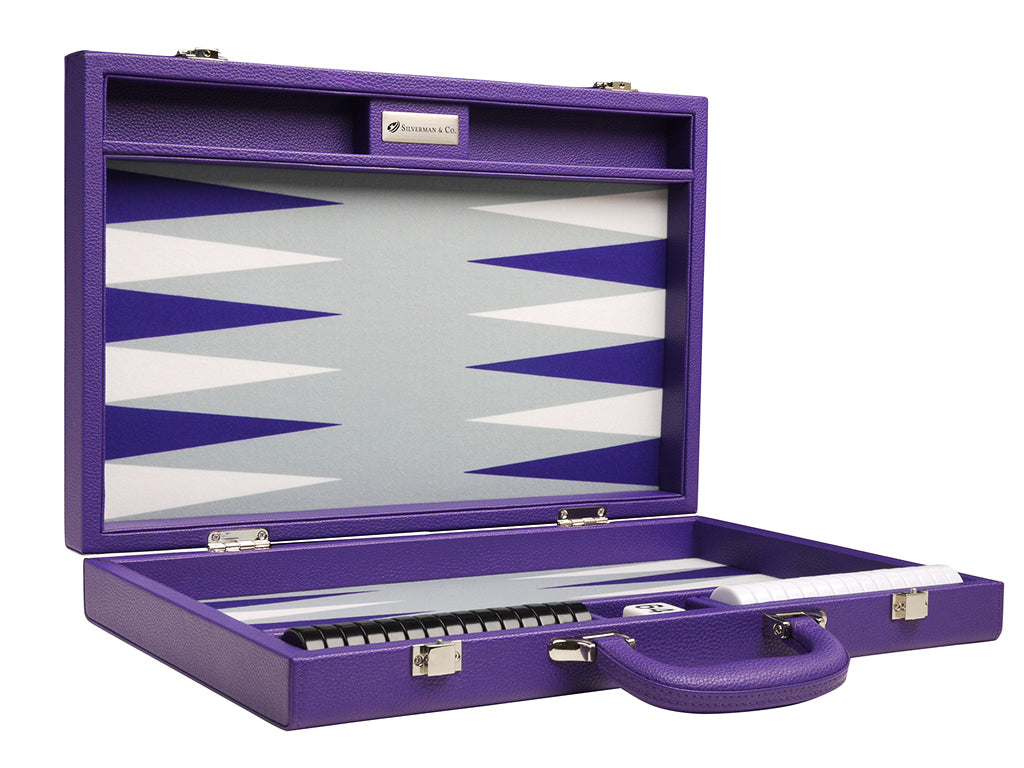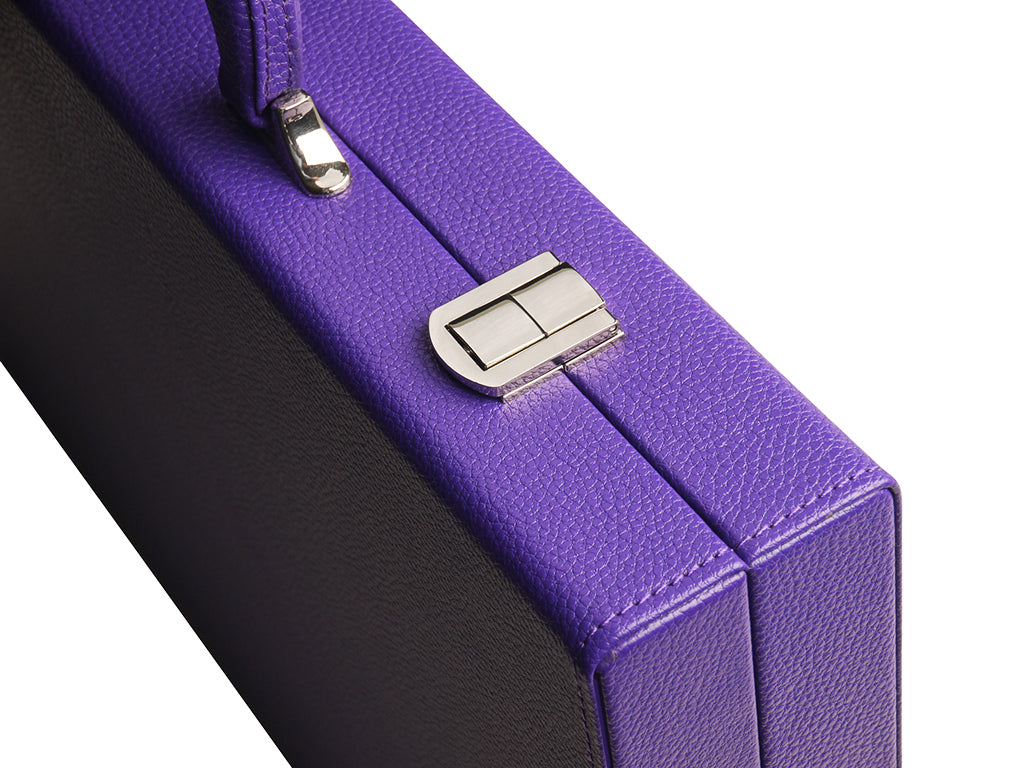 On Sale
Set de Backgammon Premium de 40 x 53 cm - Púrpura
Set de Backgammon Premium de 40 x 53 cm - Púrpura
Estilo elegante, artesanía de calidad, exterior de cuero premium, superficie de juego suave

Misura 40,5 x 26,75 x 6,25 cm da chiuso

Misure 40,5 x 53,25 x 3,25 cm quando aperto

Mango robusto y robusto, pestillos sólidos, marco fuerte - Incluye piezas de alta calidad
Fácil de transportar y almacenar: perfecto para viajes, torneos, interiores, exteriores y diversión familiar
Ami le cose belle della vita. La qualità è importante per te. Apprezzi l'artigianato raffinato, l'attenzione al dettaglio e il design ricercato. Tuttavia, i costi elevati necessari per soddisfare il tuo gusto richiedono un'attenta pianificazione finanziaria. Non più! Siamo lieti di annunciare l'arrivo degli spettacolari set premium da backgammon di Silverman & Co. Questi eccezionali prodotti stabiliscono un nuovo standard di qualità a un prezzo imbattibile.
La parte esterna è rifinita in ecopelle premium, assemblata con assoluta precisione e attenzione al dettaglio. La superficie di gioco è costituita da un lussuoso feltro imbottito e ultra sottile: un vero piacere per i sensi che consente di far scorrere le pedine facilmente. Le pedine hanno un ampio diametro di 32 mm e 10 mm di spessore. L'aspetto migliore di questo prodotto è che le pedine si inseriscono perfettamente all'interno della tavola da gioco, creando uno spazio minimo quando sono posizionate fianco a fianco.
Quando avrai finito di giocare e vorrai riporre il set, avrai inoltre la possibilità di inserire comodamente le pedine negli scomparti laterali e di chiudere la tavola facilmente, senza inclinare le pedine. In questo modo, potrai riporre tutto al sicuro e sarai pronto per la prossima vittoria.
Non finisce qui! Potrai anche apprezzare il design ergonomico delle tazze ovali per i dadi, rivestite con feltro vellutato per ridurre il rumore e con bordi graduati che assicurano un risultato equo a ogni tiro. Ogni set è inoltre dotato di un grande dado del raddoppio da 25 mm e di un dado laccato in bianco e nero da 13 mm.
In genere, tutte queste caratteristiche si possono trovare solo in set da backgammon molto più costosi. È sempre stato così, fino a oggi. I set premium da backgammon di Silverman & Co. rappresentano l'unione perfetta tra alta qualità e valore imbattibile, la soluzione migliore che si possa trovare. Disponibili esclusivamente da American-Wholesaler, consigliamo vivamente queste tavole da backgammon.
About Silverman & Co.

Silverman & Co. Backgammon Sets with Free Shipping
Now available in Europe: Silverman & Co. backgammon sets with free shipping, exclusively through American-Wholesaler. Crafted with meticulous attention to detail and directly sourced from the manufacturer to eliminate additional costs, these sets redefine the elegance of backgammon.
The hallmark of Silverman & Co. is its vibrant color design, creating a distinct and stylish appeal that stands out. Each backgammon set boasts a faux-leather exterior, exuding luxury, and features an ultra-fine padded felt playing surface, offering a smooth and comfortable gameplay experience.
Every set is meticulously designed as a luggage-style case, providing both ease of transportation and storage for accessories when closed, and transforming into a play board when open. The case features a robust, rugged handle, solid silver-colored latches, and a strong frame, ensuring added durability for long-lasting use.
Designed for both functionality and convenience, these backgammon sets come in two sizes, catering to various preferences. The medium 16-inch (40 cm) size is perfect for regular use, while the large 19-inch (48 cm) size is ideal for those seeking a grander board for large-scale games.
Each Silverman & Co. backgammon set is fully equipped, providing everything you need for an exceptional gaming experience. You'll find 2 sets of checkers (15 in each set), 2 sets of dice (4 in total), 2 cups for rolling the dice, and a doubling cube, ensuring that you have all the essentials for exciting matches.
The set includes checkers made from the incredibly durable Uria Stone material, ensuring they won't break or crack during intense gameplay. The size of the checkers corresponds to the board size, with the larger board having larger checkers. For the 16-inch board, the checkers are 32 mm in diameter and 10 mm thick, while the 19-inch board comes with 40 mm diameter and 10 mm thick checkers.
These backgammon sets stand out due to their great quality, affordability, and the extra perk of free shipping, providing a luxurious gaming experience without overspending. Improve your backgammon play with the beautiful Silverman & Co. sets, currently offered at American-Wholesaler.